President Obama hangs out on Google+
A social media first occurred this evening when President Barack Obama held a Google+ Hangout to take live questions from five Americans and a few people who were taped beforehand, including a homeless veteran and an Occupy protester.
He answered questions about the economy, job creation, small business, and the use of drones in Iraq and Afghanistan. Obama referenced a New York Times story on the use of drones, which he called "overwritten," and said that the use of drones had not resulted in an unusual number of civilian casualties. Asked about the anti-piracy legislation that set the Internet on fire, Obama said, "When SOPA came up on the hill, we expressed some concerns about the way the legislation had been written."
Almost as fascinating as the Hangout itself was the discussion of the Hangout on Twitter.
Many wondered who chose which questions were posed to the president from the more than 130,000 submissions. Alex Howard, who covers "open government" for O'Reilly Media, said Steve Grove, head of community partnerships at Google+, picked the questions.
Was it a campaign stunt, an ad for Google, a great opportunity for citizens to connect with the president, or all of the above?
The videoconference lasted thirty minutes and ended with a request for the president to show off some dance moves. He declined, but suggested he might use a future opportunity to sing. "In some future Google+, I may sing another tune," he said.
I hear he does a great Al Green.
Update: CNN's Security Blog points out that during the Hangout, Obama casually admitted to drone strikes in Pakistan
"a lot of these strikes have been in the FATA, and going after al Qaeda suspects who are up in very tough terrain on the border between Afghanistan and Pakistan. For us to be able to get them in another way would involve probably a lot more intrusive military actions than the one we're already engaging in." (FATA being the Federally Administered Tribal Areas of Pakistan where Al Qaeda and many Taliban are ensconced).
Obama also made another bit of news by addressing a question regarding a young UK man named Richard O'Dwyer who the US is trying to have extradited for copyright infringement. He runs a website called "TV Shack" that offers streaming video of movies and television programs. Obama was asked "Why are you personally supporting the extradition of UK citizen Richard O'Dwyer for solely linking to copyright infringing works using an extradition treaty designed to combat terrorism and bring terrorists to judgement in the USA?" to which he responded that he was "not personally doing anything" because the president does not get directly involved in those type of decisions.
"One of the ways our system works is the president doesn't get involved in prosecution decisions and extradition decisions and this has been a decision by the justice department," he said.
"Broadly, we want to make sure intellectual property is protected we want to make sure that the creative works of people in this country aren't expropriated, but we want to do it in a way that is consistent with internet freedom."
The Huffington Post has more on this particular story.
Watch the Hangout, via the White House, starting at the 1:02 mark: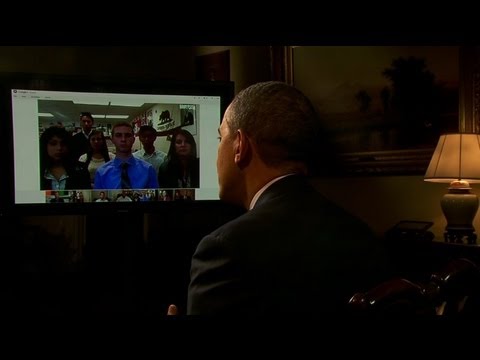 Credit: YouTube/WhiteHouse