Oxana's battle to save her son's life
German gymnast Oxana Chusovitina is getting ready for her fifth Olympics for a third country in August. That would be by itself unusual enough under normal circumstances.  
The fact that the 32-year-old — who began her career for the Soviet Union before its demise and then for her native Uzbekistan before moving to Germany — is twice the age of some of her rivals in a sport long the domain of teenagers is another feat on its own.
But what makes Chusovitina's tale even more incredible is that her ambition was fired by a battle to save the life of her son, Alisher. He was diagnosed with acute lymphocytic leukaemia at the age of 3 in 2002. There were no specialist oncology facilities in Uzbekistan and her family had no health insurance. So with the speedy help of some friends  in the gymnastics world from Cologne she moved to Germany, learned German, and eventually became a German citizen in 2006.
"There was no child oncology in Uzbekistan and in Russia you don't have a chance because there are already so many on the waiting lists," Chusovitina said in an interview after a high-energy training session in Cologne under the watchful eye of her coach, Shanna Polyakova. "I'd known Shanna and Peter Brueggemann at Team Toyota Cologne for a long time and they organised everything. They found a spot in hospital for me and fortunately we came here."
Thanks to the treatment over the last six years, Alisher is now essentially cured and only needs to undergo periodic analysis of his blood. You can see a smile explode on the face of Chusovitina when she reports that.
She says he speaks more German than Russian and is even among the dozens of children who take part in training sessions in the same crowded gymnastics hall at the Cologne sports university with Chusovitina.
"He can do everything the other kids do," Chusovitina said. "Sometimes he comes in here and does gymnastics with the other kids too.  My heart doesn't ache any more as it did because I can see he's healthy."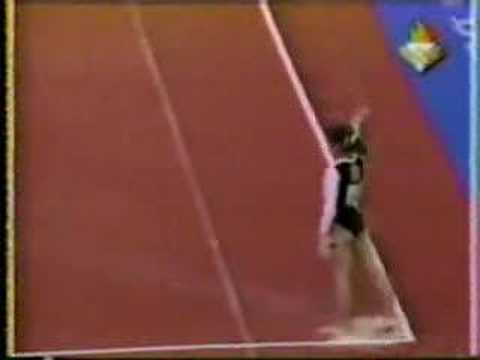 Chusovitina says she thrives off the energy in the small, crowded and noisy gymnastics hall housing the Cologne team's young gymnasts – scores of mostly grade school children scurrying around and running through their impressive if unpolished routines.
"The kids are so much fun," she said. "I'm always taking a look over at what they're doing because it reminds me of when I was so small before. They have so much fun working out. I'll take a look and get a second wind because so many little children are running around at my side. Sometimes if I'm feeling tired and don't feel like training any more, I'll see them and think to myself 'You can't let them see you're tired'."
She said the children sometimes ask for advice – especially about blisters. "They've all helped me to learn German. I'll ask them 'How do you say this or that?' and they're always ready to help. Sometimes they'll correct me, which is a good thing. They're all learning a little bit of Russian too."
Spending a few hours with Chusovitina, her coach and about two dozen  enthusiastic young gymnasts in Cologne was the perfect antidote for months of reading worrying headlines about the Olympics in Beijing. On the train on the way home to Berlin, I kept thinking: "Isn't this what the Olympics is supposed to be all about?" 
Picture: Oxana Chusovitina competes for Uzbekistan during the World Cup competition in Artistic Gymnastics in Moscow in this May 26, 2006 file photo. Photo by Thomas Peter.
Post Your Comment