"Greenwash guerrillas" invade carbon conference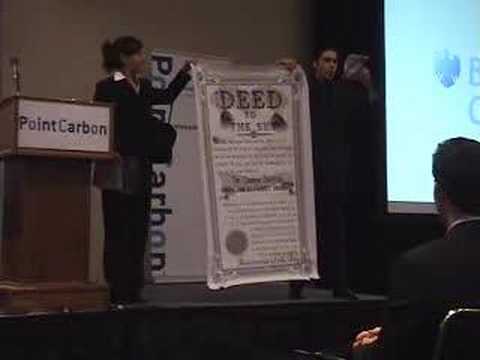 Not everyone believes trading the right to pollute greenhouse gases will stop global warming, as vociferously demonstrated at a New York carbon conference.  Shouting "Renounce this treachery!" two self-dubbed "greenwash guerrillas" invaded a Point Carbon conference in New York's Javits Center on Tuesday. The activists from a group called Rising Tide,  passed security posing as convention delegates. Then they rushed the stage just before U.S. Congressman Jay Inslee, a Washington Democrat, was set to speak.  The extreme greens, organic farmer Jessica Starr, and graphic artist David Lee, came down from their home Maine to bestow the 700 carbon traders, environmentalists, and bankers attending the meet with a deed to the sky, and a key to the sky.
Many environmental groups support carbon trading, believing it can unleash the power of capitalism to support innovation that will reduce emissions blamed for warming the earth. They cite similar U.S. markets that cut acid rain pollution. Carbon markets work by setting an emissions level that industry must meet. Heavy greenhouse gas emitters, like coal-fired power plants, can buy credits from companies and countries that invest in carbon cutting projects to meet their limits.  Billions of dollars worth of credits have traded in such markets, mainly in the European Union.
But some greens believe carbon trading in effect privatizes the atmosphere under false pretenses.  At best it puts money in the pockets of traders and brokers for projects that probably would have eventually happened anyway, and at worst could support energy sources and technologies that could increase emissions or other environmental and social problems, they say.
Point Carbon workers escorted the activists from the stage without bothering to alert convention security. "It's not fun to have people to take over your stage," said Veronique Bugnion, Point Carbon's North America director. But she took pride in the fact that interest in carbon markets in the United States, the only developed country besides Australia that did not ratify the Kyoto Protocol, is rising. "It means the subject is important enough to notice one way or the other."
Not everyone got the message. One delegate from a New York-based company that identifies carbon reduction opportunities in India said she had no idea the conference had been invaded. "I thought it was a congratulatory thing, kind of a 'thanks' for figuring out how to fight global warming," she said.
It sounds like Rising Tide will be polishing its techniques. Brian Sloan, who does outreach for the group, vowed that Tuesday's invasion was the just the kickoff of a campaign against "false solutions" and that greenwash guerillas could soon invade a venue near you.
How would you rate the infiltration?