Republicans On Buckminster Fuller
Stuart Gaffin is a climate researcher at Columbia University and a regular contributor with his blog "Exhausted Earth". ThomsonReuters is not responsible for the content – the views are the author's alone.
I finally made it over to the Whitney Museum  retrospective on Buckminster Fuller before it closed (see my June 13th post about Fuller). Just before I did, however, I happened to come across a diatribe against him in the July 7 Weekly Standard , in response to the exhibit. This is a conservative commentary magazine that is a favorite of the Bush White House.
Highlights of the Weekly Standard piece include: "…Buckminster Fuller had been thankfully dormant for the past quarter century … one of the arch cranks of the sixties … You had to be either a drug-crazed hippie or a philosophical adherent of Flower Power to take Bucky seriously… a college dropout …Fuller was … the intellectual as confidence man …" (Wait didn't they just mock him for being a college dropout?)
Try saying these things about Fuller to chemists Harold Kroto, Robert Curl and Richard Smalley. They won the 1996 Nobel Prize in Chemistry for discovering a new class of compounds now called "Fullerenes" or "Buckyballs" (see the picture above of Robert Curl holding one) because they have a 60-carbon geodesic structure that Fuller realized had to be fundamental in nature. This posthumous Nobel-winning discovery alone is a legacy that any scientist would envy.
I am sure none of the Weekly Standard folks went to the Whitney retrospective but if they had they would have seen it packed solid with families and children studying the exhibits intently and with clear pleasure.  There was not a single "drug-crazed hippie" in sight (although I'm sure plenty of ex-hippies did make it.)  Interesting how a "confidence man" is able to pack a museum 25 years after he died – must have something to do with the content of his work, since the 'con' man is no longer around.
That content was terrific and inspiring, moving from his early work on tension structures for homes, to the octet truss to the geodesic dome of course, then on to the amazing "tensegrity" structures discovered by Kenneth Snelson (a student of Fuller's). The exhibit ends more or less with Fuller's Dymaxion map which was a new type of triangular projection of the Earth's surface that doesn't distort land areas: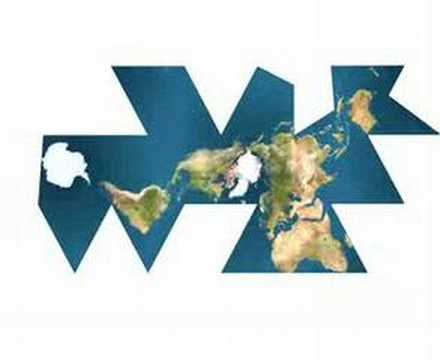 One of the exhibit video's shows Fuller talking indeed to a group of "hippies" (the TV correspondent described the audience as such) in an outdoor park on the West Coast during the late 60's. I was moved by one scene where he gently picks up a little girl at his feet from the audience, holding her on his lap, to say how children are born inter-disciplinarians who naturally think across boundaries and how we lose this capacity when we grow up. 
What a sight. Here was this dignified elderly man, impeccably dressed in a black suit, white shirt and tie, speaking nobly about human capacity to a vast audience of teenagers and young adults. Isn't this the kind of thing Republicans at the Weekly Standard should have wanted to see more of in the Sixties ? You can be sure that they get misty-eyed when George W. Bush picks up a baby and says nothing. It's nice to think that long after the Weekly Standard is gone and thankfully forgotten, ordinary people will be engaged by Fuller's ideas just as intently as they were at this exhibit.