Funds Hub
Money managers under the microscope
from Global Investing: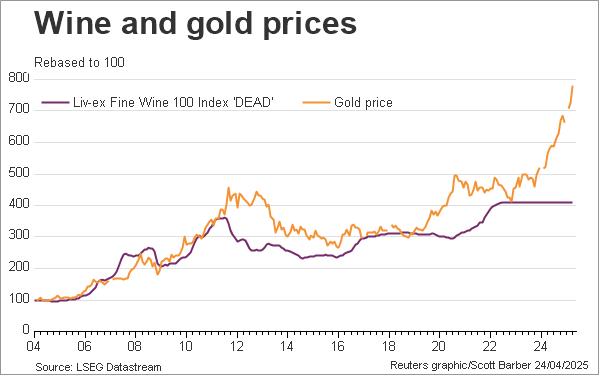 During this depression, it would appear that investors are no longer finding solace in turning to the bottle.
Fine wines are being hit hard by the global downturn, with the Liv-ex Fine Wine 100 index down 7.4 percent on the year, according to July's Cellar Watch Market Report.
The Liv-ex Bordeaux 500 was down by 3.4 percent month-on-month - an especially disappointing showing given that the market is usually energised in June by new Bordeaux releases.
The close correlation of prices in wine and gold since 2004  had suggested that wine was proving very resilient to economic recession; concerns about its "luxury" status were perhaps outweighed by its alcoholic content.
from Global Investing:
Anyone worried about Greece and the potential impact of the euro debt crisis on the world economy should have a chat with Jim O'Neill. O'Neill, the head of Goldman Sachs Asset Management ten years ago coined the BRIC acronym to describe the four biggest emerging economies and perhaps understandably, he is not too perturbed by the outcome of the Greek crisis. Speaking at a recent conference, the man who is often called Mr BRIC, pointed out that China's economy is growing by $1 trillion a year  and that means it is adding the equivalent of a Greece every 4 months. And what if the market turns its guns on Italy, a far larger economy than Greece?  Italy's economy was surpassed in size last year by Brazil, another of the BRICs, O'Neill counters, adding:
"How Italy plays out will be important but people should not exaggerate its global importance.  In the next 12 months the four BRICs will create the equivalent of another Italy."