Global News Journal
Beyond the World news headlines
-

Juliana Rincon is video editor of Global Voices, which monitors citizen media in the developing world. Thomson Reuters is not responsible for the content of this post — the views are the author's alone.

On May 2nd, 2008, Cyclone Nargis struck Myanmar (Burma), generating massive damage and tens of thousands dead or missing. The situation would be considered critical for any country. However, the military government or "junta" has restricted the entrance of aid by requiring all donations to pass through them. The junta has also set up guidelines for journalists on how to report on the cyclone, restricting their communications, particularly on showing dead bodies or reporting about insufficient aid for victims, according to Burma News, a local online news source.
In spite of these restrictions on people carrying cameras and taking pictures, some have gone out to record the extent of the damage. There is anger over the failure of authorities to evacuate the affected villages, even when they were allegedly aware of the impending cyclone and the possible devastation it could cause. The following images, uploaded by YouTube user aungsayapyi may affect sensitive people: they are very graphic, include dead bodies and should be viewed with discretion and an adult's consent:
YouTube user AfterNargisYgn has been uploading a multi-part series of videos featuring images of the effects of the Cyclone in Yangon, Myanmar's largest city, previously known as Rangoon. People removing downed trees, wading through waters and drying their mattresses, clothing and in general trying to clean up and move on.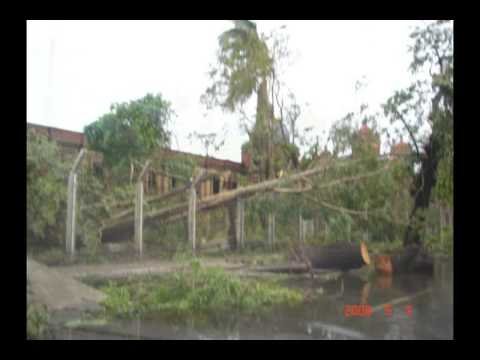 YouTube user Burma4u uploaded a video of the aftermath in Latbutta, with Cyclone Nargis' victims crowded in refugee shelters, trying to sleep as they mull over what will happen to them in the future.