Pay vote wrinkles
We don't know the full story around Andrew Moss' departure from Aviva on the back of a hefty protest vote from investors over his pay deal. It may well be that major shareholders made it very clear behind closed doors that they expected to see him go, with the vote acting as a public demonstration that they were serious about private demands. Perhaps the board found the advisory vote to be useful lever to remove an underperformer who had brought some troublesome baggage to the role.
But whatever the truth of the matter, the story exposes a wrinkle in the debate over executive pay.
Investors have been cast in the role of white knights as politicians and boardrooms joust over remuneration. There is a hope that this disparate posse will save us all from sky-high pay deals and the burgeoning gap between corporate leaders and their workers. But the Moss case raises questions over how effective they can be.
After all, the objection about Aviva, as is generally the case in revolts like this, was that the CEO failed to justify his pay; but the response has not been to moderate pay. The vote was about him, and not the contents of his wage packet.
Indeed, it's difficult to imagine a situation where serious investor concerns over poor executive performance would result in a reduction in pay, rather than a goodbye kiss for the hapless CEO. It's even harder to imagine that being repeated across the FTSE 250.
There are examples of bosses temporarily forgoing bonuses or salary increases when things are really dire, but of course that doesn't have too much effect on the overall picture over the medium term, and, it has been argued could even lead to higher basic pay by way of compensation (no pun intended).
Remuneration committees might well become more wary of investors in the wake of Moss' departure (let's hope investors don't retreat into their shells having witnessed the awesome extent of their power), but it is still hard to see how the disconnect displayed in the below graphic might be properly addressed.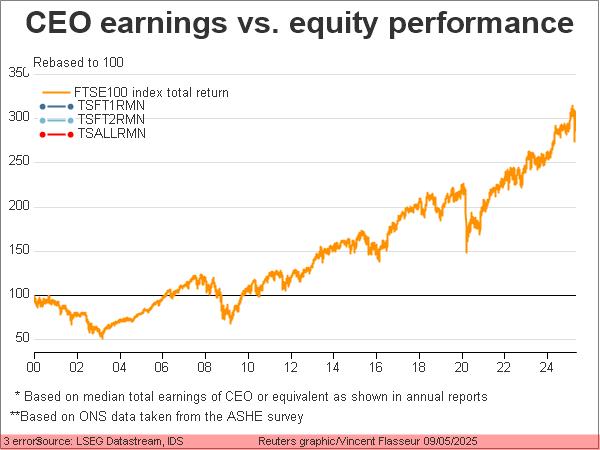 I fondly recall staying up till midnight (truly, I am living the dream) for the very first time UK investors voted down a pay deal, at GSK in 2003. Then, the objection was about a huge severance package, and came on the back of a disappointing drugs pipeline and some ho-hum share performance. No one could be quite sure that Jean Pierre Garnier's potential 22 million pound payoff would have caused such ire, or indeed any at all, had the firm being bashing out blockbusters left, right and centre. UBM had less performance issues at play when investors railed at Lord Hollick's golden goodbye in 2005, but again objections were raised over what amounted to a technicality in his pay, rather than the level of compensation itself.
Still today, there is a large rump of shareholders subject to inertia. Barclays might have suffered a 27% vote against its pay deal, but that was after the bank substantially underperformed both the wider market and its sector over the year, to say nothing of supposed lingering anger over banks' role in the financial crisis. Barclays chairman Marcus Agius felt confident enough to fall back on the politicians line that the investor anger was as much a problem of communication as anything else.
This recent surge of activity from the funds and fund managers who own companies on our behalf is of course welcome and looks like it might have passed the event horizon into habit, but Vince Cable's dream of shareholders acting as right-minded moderators of capitalism's excess will only gain currency when we see votes go against pay deals for successful, highly-regarded executives instead of an ouster which brings in new blood on the same, or more lucrative, terms.
In the last few minutes, William Hill shareholders have come close to doing just that, albeit over a particular retention bonus which failed to include a performance link, but even such a controversial issue as that couldn't quite convince a majority of investors.  And let's not forget, that for the moment at least, brave boards have the luxury of ignoring the vote even if that majority is achieved.