Investors hungover after wine binge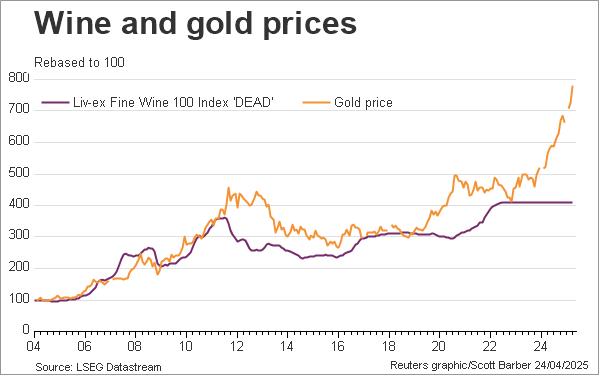 During this depression, it would appear that investors are no longer finding solace in turning to the bottle.
Fine wines are being hit hard by the global downturn, with the Liv-ex Fine Wine 100 index down 7.4 percent on the year, according to July's Cellar Watch Market Report.
The Liv-ex Bordeaux 500 was down by 3.4 percent month-on-month – an especially disappointing showing given that the market is usually energised in June by new Bordeaux releases.
The close correlation of prices in wine and gold since 2004  had suggested that wine was proving very resilient to economic recession; concerns about its "luxury" status were perhaps outweighed by its alcoholic content.
However, since early 2011, the prices have been steadily declining, reflecting a sharp decline in the market for top end Bordeauxs in particular.
Only a fifth of the wines in the Bordeaux 500 are seeing year to-date increases, with buyers turning away from First Growths, which are traditionally seen as blue-chip investment wines, towards smaller producers. Latour is the best performing First Growth wine, posting a decrease of only 4% on the year.
The worst performers are Carruades Laffite, whose vintages are down nearly 20% overall on the year. However, several non-First Growth wines are up on the year.
Moreover, some wines have significantly outperformed the Bordeaux index, with the "Super Tuscans" proving resilient to the recent downturn. According to the Cellar Watch report:
Whereas the Bordeaux market (as tracked by the Liv-ex Bordeaux 500) has fallen almost 20% over the past year – with the Firsts, on average, falling 30% – the Super Tuscans have managed to put in a creditable 9% rise in prices.
As the graph below shows, the "Super Tuscans" did not reach the same peak as the Fine Wine index, but also did not suffer the same decline.
"Tuscany, compared to the rest of Italy, is very simple for a consumer to get his head around… and critics have been scoring it well," said Anthony Maxwell, of Liv-ex, who publish the Cellar Watch Market Report,
Regarding Bordeaux's recent performance, he said "the medium to long term story of Bordeaux is still very strong."
"It was probably due a correction, and if you look at the long term charts it makes sense… and it's probably healthy."