"Juice is gone" on Portuguese bonds?
Portuguese bonds staged an impressive rebound on the back of the European Central Bank's cheap loan money flood in the first half of the year. The bailed-out country has managed the rare feat of being one of the best performing sovereign bond markets of the year so far with returns of over 40 percent for 10-year government bonds.
But the rebound was illusory in some respects because Lisbon had suffered more than most at the end of last year when some feared, prematurely at least, that the logic of the Greek debt restructuring would be applied to Portugal too.
And even if Lisbon has been praised for its efforts to cut its deficit, it is still considered the euro zone's second riskiest country in terms of bond yields.
Richard Batty, investment director at Standard Life Investments, says:
"At the moment the premium suggests a big credit risk associated with holding (Portuguese) assets. Many of our clients have asked us not to invest in Portugal because sovereign bonds in places like Portugal and Greece are not risk-free anymore."
Portugal's 10-year debt is still priced as low as 65 cents in the euro on secondary markets compared to 93 cents for equivalent debt in fellow bailout member Ireland.
For Federico Sequeira at Exotix brokers, most good opportunities found in the first half are gone.
"At one point the sovereigns started trading at a very low level and people started investing when they realised Portugal's problems were not as bad as that of Spain. Today you probably won't find opportunities on the bond side … the moment everybody got involved the juice was gone."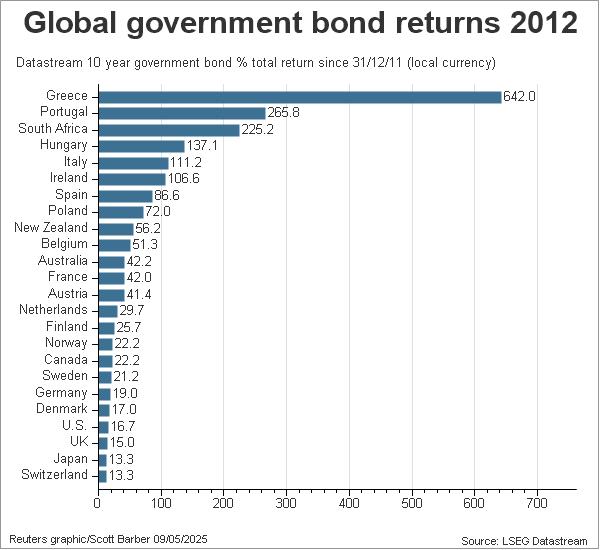 And amid warnings by parliamentary monitors that Portugal was at risk of missing its budget deficit targets in the wake of the country's worst recession since the 1970s, some economists warn that yields are likely to increase again.
According to a research note from Capital Economics:
"While Portugal is seeing some respite in bond markets, we think this broad mix of factors dragging on its growth prospects will come back to haunt it later on…These weaknesses are likely to hamper its efforts to issue debt independently and they will not disappear."