South Africa's perfect storm
Of all the emerging currency and bond markets that are feeling the heat from the dollar's rise, none is suffering more than South Africa. A series of horrific economic data prints at home, the prospect of more labour unrest and the slump in metals prices are making this a perfect storm for the country's financial markets.
Some worrying data from the Johannesburg Stock Exchange this morning shows that foreigners sold almost 5 billion rand (more than $500 million) worth of bonds during yesterday's session alone. Over the past 10 days, non-resident selling amounted to 10.7 billion rand. They have also yanked out 1.2 billion rand from South African equities in this time. And at the root of this exodus lies the rand, which has fallen almost 15 percent against the dollar this year. Now apparently headed for the 10-per-dollar mark, the rand's weakness has eaten into investors' total return, tipping it into negative return for the year.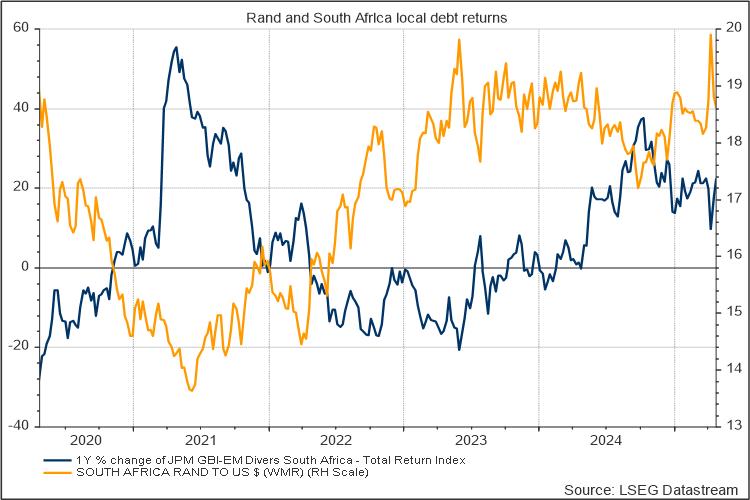 What a contrast with last year, when a record 93 billion rand flooded into the country on the back of its inclusion in Citi's prestigious WGBI bond index.  That lifted foreign holdings of South African bonds to well over a third of the total. Investors at the time were more willing to turn a blind eye to the rand's lacklustre performance, liking its relatively high yield and betting on interest rate cuts to help the duration component of the trade.
As we wrote earlier this ye ar, the majority of these bond purchases by foreigners were made when the rand was much firmer. Even allowing for substantial currency hedging, calculations by UBS show that the currency is now well under levels at which longer-term bond returns would be in the red. The same likely applies to equity investments too —  in dollar terms South African stocks have lost over 13 percent, among this year's worst performing emerging markets.
Policymakers may have turned a blind eye to the rand's falls over the past year,  reckoning on a net gain from a weak currency  to the export-reliant economy. But further weakness leading to a foreign investor exodus will quickly change the equation for South Africa, which has a current account deficit to finance, running at around 6.5 percent at present.
Analysts at Citi write:
From the pure macro point of view, it is still hard to believe in a sustainable rand rally amidst further deterioration of terms of trade (pressure on platinum, iron ore, gold prices), and some degree of contraction in volumes as well. Pressure on capital flows suggest medium term difficulty to finance the current account gap, and once again, negates any possibility of a major comeback in the rand.
Markets are waiting to see how U.S. data is shaping up in coming days. A series of strong U.S. data is likely to fuel a further sell-off in emerging market currencies, with the rand at the forefront.