Last week's victory for Miss Venezuela in a global beauty pageant was a rare bit of good news for the South American country. With a black market currency exchange rate that is 10 times the official level, shortages of staples, inflation over 50 percent and political turmoil, Venezuela certainly won't win any investment pageants.
This week investors have rushed to dump Venezuela's dollar bonds as the government ordered troops to occupy a store chain accused of price gouging. Many view this as a sign President Nicolas Maduro is gearing up to extend his control over the private sector.  Adding to the bond market's problems are plans by state oil firm PDVSA to raise $4.5 billion in bonds next week. Yields on  Venezuelan sovereign bonds have risen over 100 basis points this week; returns for the year are minus 25 percent, almost half of that coming since the start of this month.  Five-year credit default swaps for Venezuela are at two-year highs, having risen more than 200 basis points in November. And bonds from PDVSA, which is essentially selling debt to bankroll the government and pay suppliers, rather than to fund investments, have tanked too.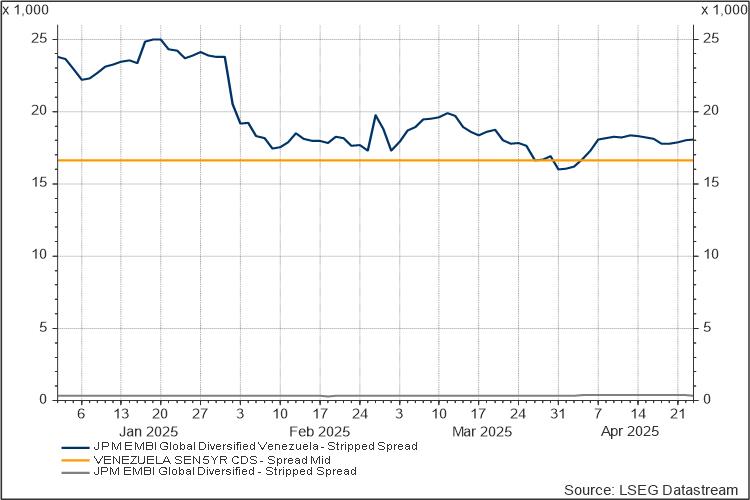 Double-digit yields and high oil prices have made bond funds relatively keen on Venezuela but the latest sell-off is forcing a rethink. JPMorgan analysts have cut their recommendation on the bonds to underweight:
Now that spreads have spiked out of the recent range , lower oil prices will force a more pronounced macro correction, and social and political tension is rising, we no longer view risks as sufficiently compensated by yields.
The situation is bad enough but few reckon yet on the possibility of default. Kevin Daly at Aberdeen Asset Management says he has added to an underweight position on Venezuelan debt but believes default is unlikely — unless oil prices collapse to around $30 a barrel for a prolonged  period of time.  Nor is Maduro likely to attempt a Correa-style repudiation of debt, he says, because unlike Correa's Ecuador, PDVSA has a lot of overseas assets that could be seized by creditors in event of a default.  That includes refineries and oil companies in the United States, Europe and the Caribbean. On the other hand, mayoral elections across Venezuela later this month could raise political tensions even further, Daly says, another reason to stay sidelined.