Movie Review: Manjhi – The Mountain Man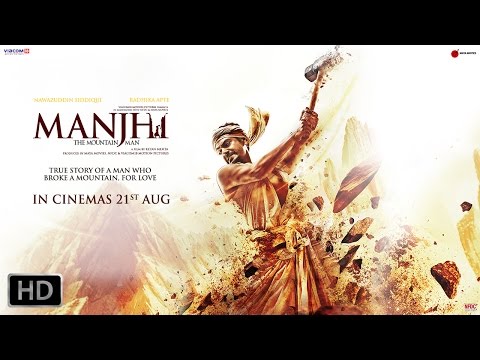 (Any opinions expressed here are those of the author and not of Thomson Reuters)
There are some stories that stay on the pages of a newspaper, some that become dinner-table conversation, and others that lead to heated television debates. And then there are those which are so inspiring and with such inherent drama that you can't help but think that only the big screen would do justice to it. The story of Dashrath Manjhi is one such.
The tale of a man who spent 22 years carving a path through a mountain with just a hammer and chisel is one that is made for celluloid. But what is perplexing about Ketan Mehta's biopic on Manjhi is the film-maker's compulsion to embellish it with elements that have no place in the story.
"Manjhi – The Mountain Man" sets out to document the life of a daily wage labourer in rural Bihar who is driven to forge a path through a mountain to shorten the distance between his village and the nearest town, oblivious to ridicule or the enormity of the task.
But Mehta doesn't seem too convinced about the potency of the plot. He seems to have this compulsive need to add some bells and whistles to what should have been a straight, linear storyline.
Mehta adds a disclaimer at the starting credits, saying some incidents have been fictionalised, and then proceeds to make up whole chunks of Manjhi's life story. There is a track where Manjhi stands up to a group of Naxal gunmen, and another bizarre subplot where he marches to Delhi to meet the then Prime Minister Indira Gandhi and takes part in protests against the 21-month state of emergency declared on June 1975. None of this has any bearing on the film's main plot; instead it weighs down the narrative and trivialises the real story.
Mehta makes no honest attempt to depict the socio-economic environment that Manjhi worked in, giving us superficial portrayals of the oppressive caste system at work and caricaturish villains who spout the same tired lines that Bollywood's bad guys have been mouthing for the last five decades.
Even an actor as accomplished as Nawazuddin Siddiqui seems to have given in to the shrill tone of the film, turning in what is perhaps his weakest performance so far in what should have been a meaty role. Stilted by the choppy screenplay, he is unable to bring Manjhi and his obsession to life. Radhika Apte, who plays Manjhi's wife Phaguniya, looks luminous but has little else to do.
If only the director had learnt a lesson in perseverance and single-mindedness from his protagonist.
(Editing by David Lalmalsawma; follow Shilpa on Twitter @shilpajay, and David @davidlms25. This article is website-exclusive and cannot be reproduced without permission)