Movie Review: Shaandaar
(Any opinions expressed here are those of the author and not of Thomson Reuters)
There is an old, but oft-repeated joke about a Bollywood producer who decided in a fit of misplaced rebellion to make a flop film with Amitabh Bachchan when the actor was at the peak of his career. The film had none of the ingredients that go into a hit Bachchan movie – no drunken scene or songs, and his voice was dubbed. The moral, old industry hands will tell you, is that you can make a flop with Amitabh Bachchan, but it will take a lot of hard work.
"Shaandaar" director Vikas Bahl must have the same kind of self-destructive tendency. He takes all the ingredients that Indian film audiences love so much – Punjabi weddings, foreign locations and a really good star cast – and still makes one of the most nonsensical and unfunny films of the year.
Bahl might have set out to make a quirky, and perhaps an absurdist take on romance, but he simply doesn't have the skills to pull it off. Characters that are supposed to be over-the-top come across as loud and screechy; situations that are supposed to be funny will probably evoke bewilderment from audiences rather than laughter.
Bahl and his writer Chaitally Parmar seem to have gone back to the 80s where films have dialogue like "chup kar, anaath" (shut up, orphan) in public, and sing-song voices crooning "what a hottie" every time lead actor Shahid Kapoor appears in front of Sushma Seth, who plays the dictatorial matriarch of a business family.
Kapoor plays Jagjinder Joginder, a wedding planner who is hired to organize the wedding of Isha (Sanah Kapur) and Robin (Vikas Varma), scions of two business families for whom marriage is just another way to expand their financial empire. He meets Alia, the adopted sister of Isha, and falls in love with her.
Alia (played by Alia Bhatt) must be the only person on the planet who has such an acute case of insomnia that she has never slept for a single night and yet made it alive to the age of 25. She bonds with Jagjinder over their common ailment of insomnia, wry jokes, and their desire to help Isha as she deals with the open contempt her six-pack flaunting fiancé has on her weight issues.
Some of the 'funny scenes' include a graphic on what effect mushrooms have on the body, Pankaj Kapur rapping the lines "Monday Ka Khana Tuesday Ko (Monday's lunch on Tuesday)", and a couple of women who say things like "OMG" and "Like, totally".
Of the cast, only Bhatt seems to have given in to the chaos that is this film. She is the most relaxed and therefore, the most effective. Kapoor tries his best, and Sanah Kapur displays a confident demeanour in her debut film. Everyone else – from Sanjay Kapoor (as a gold-obsessed businessman who declares his Sindhi roots at every opportunity) to Vikas Varma as the 'all brawn, no brain' brother who is obsessed with protein shakes – are lost in the cacophony.
"Shaandaar" has good locations, jazzy dance numbers and lots of glitz and shine, but if you break down the surface, what stands exposed is its completely vacant centre. It would be funny if it wasn't such a tragic waste of talent.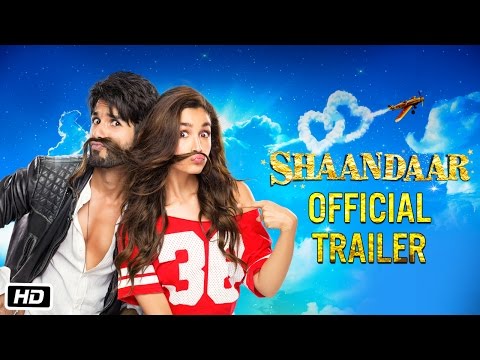 (Editing by David Lalmalsawma; follow Shilpa on Twitter @shilpajay, and David @davidlms25. This article is website-exclusive and cannot be reproduced without permission)