Balance of power upended at Davos
So, back we go next week to Davos for the World Economic Forum 2009, titled this year "Shaping the post-crisis world."
Except the crisis ain't over yet and shaping the world while it is happening is proving to be about as easy as tying your shoes while riding a bicycle.
Let's dial back briefly to those more innocent days in 2008 and remember what was being discussed at Davos then.
Q – Will Sovereign Wealth Funds save the world financial system through equity investments? Are they a menace?
A – No, and even if they are it doesn't much matter.
Q – Isn't this just about a bunch of red-neck American sub-prime borrowers and the banks that were dumb enough to lend to them?
A – No and no. It is all of us, every one, and if the heart isn't pumping sooner or later the limbs stop moving.
In fact this year's SWFs, the people everyone wants meetings with, are just plain old governments, which are more or less the lenders of only resort and increasingly the owners of the global banking system. Think of them not as Sovereign Wealth Funds but Sovereign Debt Funds. One unofficial theme of Davos this year will be the positioning that is now madly going on by businesses which feel a new shall we say, urgency, to get close to government. Davos used to be a way for politicians to seem cool, cutting edge and productive by being seen with business people. That now would be just about reversed, but the point is no longer to seem cool but to be viable.
From that perspective Davos is arguably more relevant now, but oh lord has the balance of power changed.
Another theme, in my opinion at least, is how people are trying to position themselves for what promises to be an absolute blizzard of new regulation, on everything from how much banks can borrow to what they can pay, and to whom and how they can lend.
One person probably not coming back this year is John Thain, the now former CEO of Merrill Lynch, who left the company amid a flap over a reported $1.2 million office redecoration and the payment of billions of dollars of bonuses just before the firm was sold to Bank of America. Ironically, he was among the most downbeat about the prospects for banks last year.
Remember too that the villain last year was SocGen rogue trader Jerome Kervial, whose antics, just coming to light as Davos met, seem quaint in comparison with his 2009 counterpart Bernie Madoff. Come back Jerome, all is forgiven.
Here is the Davos pre-presser, which gives a more traditional read on the agenda.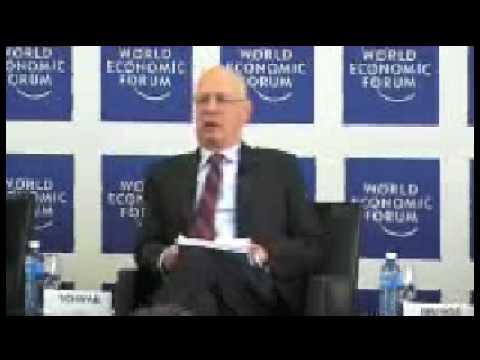 James Saft is a Reuters columnist. The opinions expressed are his own.