Central bank balance sheets: Battle of the bulge
Central banks across the industrialized world responded aggressively to the global financial crisis that began in mid-2007 and in many ways remains with us today. Now, faced with sluggish recoveries, policymakers are reticent to embark on further unconventional monetary easing, fearing both internal criticism and political blowback. They are being forced to rely more on verbal guidance than actual stimulus to prevent markets from pricing in higher rates.
How do the world's most prominent central banks stack up against each other? The Federal Reserve was extremely aggressive, more than tripling the size of its balance sheet from around $700-$800 billion pre-crisis to nearly 3 trillion today. Still, the ECB's total asset holdings are actually larger than the Fed's – it started from a higher base.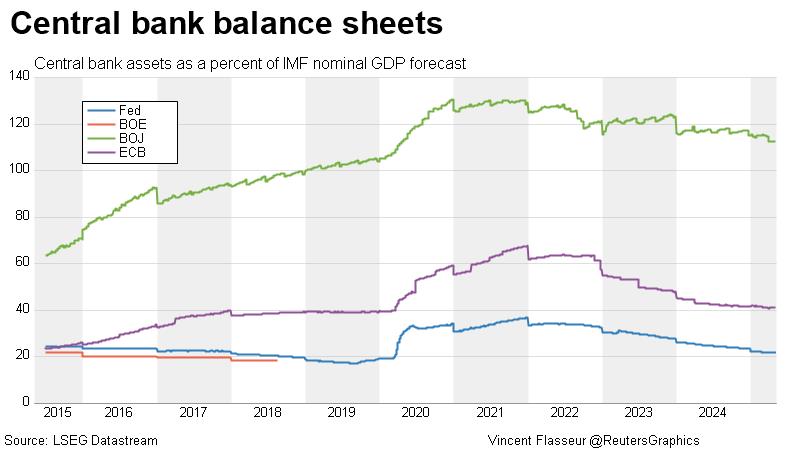 The Bank of England, for its part, went even deeper into uncharted territory, with its assets as a percentage of GDP surpassing the Fed's. By the same measure, the ECB has overtaken the Bank of Japan, which has been grappling with deflation for some two decades and started from a much higher level.
Taken together, the expansion in reserves is impressive – and speaks to just how deep the global recession proved to be.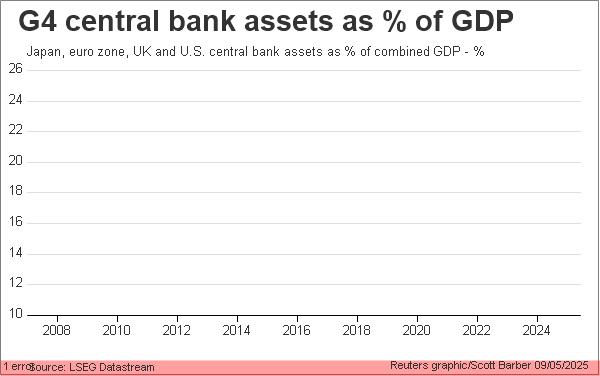 Thanks to Van Tsui in New York for the handy charts.