Oh là là, quelle surprise for the French economy
French economic growth unexpectedly picked up to 0.3 percent in the final three months of last year, welcome news and a rare positive shock for some particularly gloomy forecasters who were looking for shrinkage or no growth at all.
But the unexpected bounce may be partly for the wrong reason: government spending.
The Markit PMIs, which are generally accepted as a good gauge of the private sector economy, suggested economic deterioration throughout the quarter, leading Markit's chief economist Chris Williamson to predict a 0.1 percent contraction.
One forecaster in the Reuters poll of 32 said French gross domestic product would shrink by 0.2 percent, and there was one going for -0.1 percent and another for no growth at all.
"The PMI continues to signal a weaker performance than the official data," wrote Williamson in a note. "This divergence in part, but not fully, reflects ongoing strong government spending in France, which is excluded from the PMI coverage."
Indeed, despite President Francois Hollande's attempts to rein in spending, official data on Friday showed public investment jumped 1.1 percent during the quarter.
That drove growth, along with household consumption and business investment.
So while the PMI was not a good guide for GDP this time, it still may be a better gauge of just how little progress France's economy has made since the Great Recession: to a large extent, much is still being carried by government.
And that is all the more striking as it comes during a period of exceptional fiscal retrenchment across most of Europe.
Richard Barwell, economist at RBS, who said he had correctly forecast the 0.3 percent French growth rate, noted that the PMI is based on a relatively small sample of companies, and that it was unclear which ones are responding to the survey.
Still, this is one of the very few times this indicator has given a wrong steer.
Through the euro zone crisis, the composite PMI has been a very good predictor of economic output.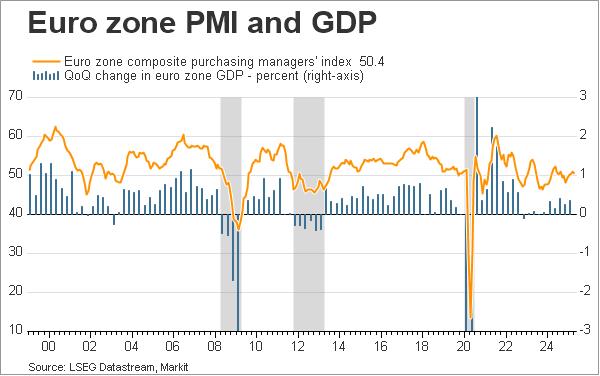 Even in Britain, during its downturn as well as the boom in the second half of last year, the PMIs have been, if not precise, very close to predicting the actual outcome.