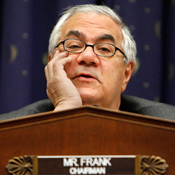 U.S. Representative Barney Frank forgot one minor little detail in Thursday's hearing on overhauling the financial regulatory system — the witness, Federal Reserve Chairman Ben Bernanke.
After Frank and other members of Congress delivered opening statements, Frank launched into a spirited rebuttal of one member's comments, but was soon interrupted by the committee's top-ranking Republican, Spencer Bachus.
Bachus: Mr. Chairman, uh, your time has expired. Now if you want to give an additional….
Frank: Excuse me, I'm in my five questions, I'm in my five minutes.
Bachus: How about the opening statement of Chairman Bernanke?
Frank: Oh, I forgot about that. I apologize.
After Bernanke read his statement, Frank offered another apology — and docked himself 30 seconds of speaking time.