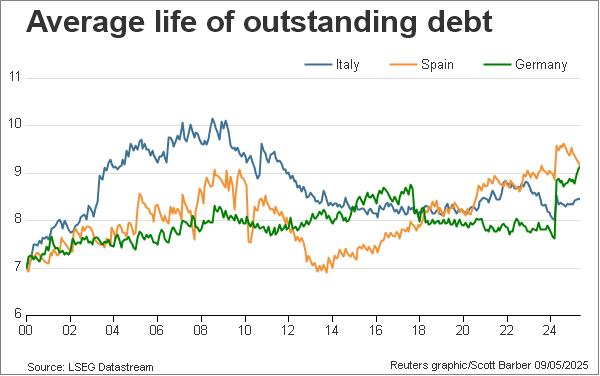 The abundance of European Central Bank liquidity in the euro zone financial system is making for smoother issuance of shorter-dated debt in the euro zone.
Case in point: Spain. This week the country sold double its previously announced target of three- and four-year government bonds amid solid demand.
But there are risks, particularly if the Treasuries of lower-rated countries get too comfortable issuing at the short-end of the curve. Michael Leister, strategist at DZ Bank, described the potential pitfalls in a telephone interview:
As easy and as attractive it is for the Treasuries to tap these shorter maturities at the moment … obviously this also has a downside in that the average maturity of the debt is decreasing and that builds up a substantial rollover risk because all this short-term debt will become due in a couple of years.

Although you can find a lot of arguments why the situation will be better in say 2-3 years time, it reminds us of the same story back three years ago when the financial crisis kicked off and the Treasuries increasingly went for the shorter maturity to bridge these market tensions. But now we have been living with these market tensions for three, four years.