Central balance sheets across the industrialized world have increased rapidly in response to the financial crisis, as recently noted on this blog. In Europe, the balance sheet of the ECB and the 17 national central banks that share the euro currency has grown to around 3 trillion euros after the ECB injected more than a trillion into the market in 3-year loans and loosened its collateral standards.
At above 30 percent of gross domestic product, the ECB's balance sheet has overtaken that of the Bank of Japan, which has been grappling with deflation for some two decades and started from a much higher level. It is also bigger than that of the U.S. Federal Reserve, which has aggressively responded to two financial crises in five years by tripling the size of its balance sheet to nearly $3 trillion today.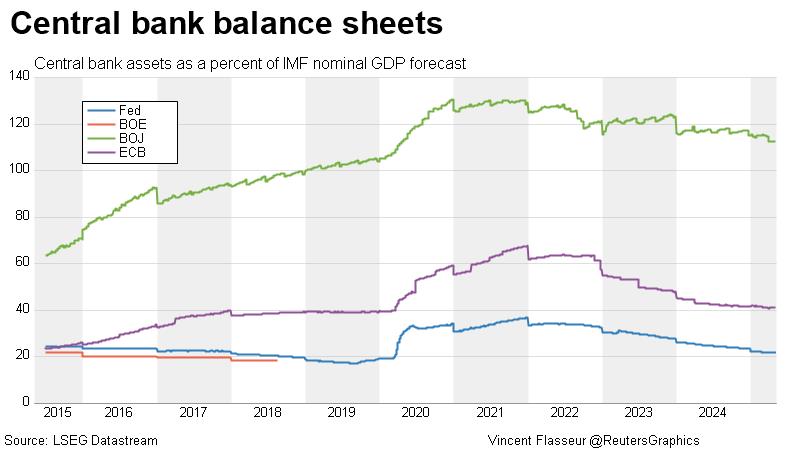 Historically, a central bank's job is to maintain price stability and the value of its currency. The ECB's non-standard measures have aimed to do just that as the euro zone debt crisis threatened the viability of the euro currency. But a growing and deteriorating balance sheet also comes at a price.
Julian Callow, head of international economics at Barclays explains:
The more the balance sheet rises, the more the ECB has exposure to the euro zone banking system, particularly of course the banking system in countries which are having difficulty in generating private sector financing.
Indeed, domestic banks in countries like Spain and Italy are deemed to have used cheap ECB financing to buy their country's debt and benefit from a carry trade, by borrowing at one percent and investing in debt yielding between five and six percent currently. At the same time, the ECB repeatedly loosened the rules on what it accepts as collateral – the assets banks provide as insurance to borrow against the central bank.