Fox upfront: Watch "Glee" and look for Kiefer at the bar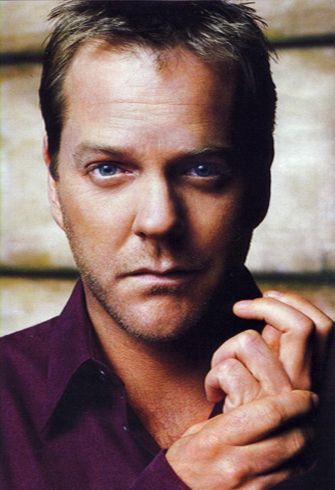 For those of you unable to make it to the Fox upfront today at the New York City Center (or skipped it and went straight to the party), here are some of the takeaways:
Fox introduced its four new comedies and two dramas to its prime-time lineup, plus the Wanda Sykes show on Saturday nights. The best looking of the bunch was "Glee" — a cutting comedy, musical feel-good hour that has received some big hype. The show may be deserving, if the clip played for media, advertisers and affiliates today is any indication. It got a rousing cheer from the crowd.
But not as rousing as the cheer for Kiefer Sutherland, who showed up (as he often does) to thank everyone for their support of "24." He wrapped up by saying, "I don't want to take up much more of your time, because I know you can't wait to get to the party. It promises to be a good one. I will be looking for you… at the bar." Nice one, Kiefer.
Fox Entertainment President Kevin Reilly and Sales President Jon Nesvig took pains to remind the audience that broadcast network TV is not yet dead, and in fact still blows away cable TV and online video. They sounded a bit like newspaper executives. "All the noise and data I've seen over the last six months tells a great story about network television," Reilly said. "Network TV is still the biggest branding opportunity out there."
Peter Rice, the new chairman of Fox Entertainment, made an appearance. The executive behind movies like "Slumdog Millionaire" as well as "Napoleon Dynamite," "Juno," and "Little Miss Sunshine" sounded happy as a clam to be over on the TV side of the business.  "In movies it just takes forever to finish a film. You can spend years, literally years, working on screenplays. Then another year shooting and editing. And perhaps as much as a year marketing. And when it hits the theaters, you all cross your fingers and hope it can do $100 million. If it does $100 million, you breathe a sigh of relief and throw a big party and it's front page news," Rice pointed out. "In the last eight weeks, I've come to realize that a $100 million movie actually translates to about 10 million people. That's 10 million viewers. And that's an average number of people who watch Fox every single night. With a show like 'American Idol' we deliver 26 million people from stage to screen at light-speed. Think about that: On Tuesday, 'Idol' reaches that total number of people who saw 'Ironman.'  And then it follows it up the next night with the number of people who saw 'Harry Potter.' Those movies take weeks to amass that audience.
(Photo: Reuters)