With media titans GE and Vivendi still negotiating a deal to bring cable operator Comcast into a mega-media joint venture, a management move at DirecTV is giving dealwatchers a fresh programming alternative.
Yinka Adegoke and Sinead Carew report the appointment of PepsiCo veteran Michael White (pictured below), who has no experience in pay TV, as DirecTV CEO is being read as a sign the company's parent, Liberty Media, just wants a baby-sitter until its sells the operation in the next couple of years.
Telecom leaders Verizon and AT&T approached Liberty earlier this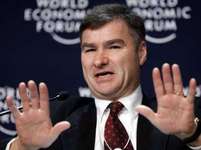 year, they report. Both have cross-marketing deals with DirecTV and would leapfrog the rest of the market with the addition of DirecTV's subscriber base. But fears of insurmountable regulatory resistance put those talks on ice.
Liberty Media shareholders are set to vote this morning on a plan to split DirecTV from Liberty Entertainment -- a move that Wall Street believes could pave the way for a telephone company to put in a bid for DirecTV, leading to a similar bid for smaller rival Dish Network.
If Comcast gets its content pipeline connected to NBC Universal, the pressure on the telcos to boost subscribers could get them to test the regulatory waters again.