Muni sweeps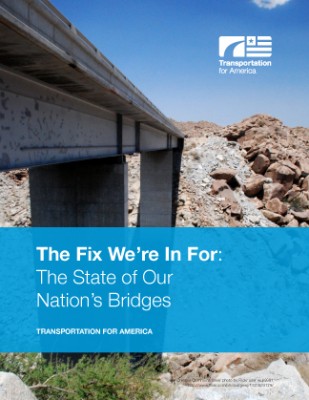 It's Friday and America keeps chugging along.
We have no Federal budget, we are possibly shutting down the federal government and our national credit card is nearly maxed out.
And over here in muniland the road is still bumpy. Here is the sweep.
Municipal bond mutual funds continue to experience outflows, general obligation bonds interest rates tick up a little from slack demand and several Senators dust off an old, unpopular idea for taxation of muni bonds.
Transportation for America:    The Fix We're In For: The State of Our Bridges
"Despite billions of dollars in federal, state and local funds directed toward the maintenance of existing bridges, 69,223 bridges — 11.5 percent of total highway bridges in the U.S. — are classified as "structurally deficient," requiring significant maintenance, rehabilitation or replacement."
WSJ:   Muni-Tax Exemption on Chopping Block
"…the municipal-bond exemption is a fraction of the overall cost [of federal budget]. A report by the Congressional Research Service last week said the tax exemption for state and local borrowings will cost the federal government $161.6 billion from 2010 through 2014 [approximately $40 billion per year].
Specifically, [Senator] Wyden's proposal makes all state and local debt taxable after 2011. But investors would receive a tax-credit equal to 25% of the interest earned on the muni debt they own."
CNBC:   Is the Municipal Bond Crisis Over?
"With six quarters of year over year growth in state tax revenues, it's gone from a national problem to… "specific states with specific problems", says Chris Mier, Loop Capital. But "the basic dyamic," he says, "is that state tax revenue has been growing".  Illinois and California are two states that are still "struggling" but, overall the large states are fairly well stabilized."
Bloomberg: Investors Pull $1.1 Billion From Muni Bond Mutual Funds
"Investors pulled about $1.1 billion from U.S. municipal-bond mutual funds this week, the 21st consecutive week of outflows, Lipper US Fund Flows said today.
The withdrawal is the largest since the week ended Feb. 9. Outflows have totaled about $30.8 billion since mid-November, including a record $4 billion in the week ended Jan. 19."
Wall Street Journal:  Muni Salesmen Fight Gloom
"Nothing ever happened in our market, good or bad," said Ben Watkins, director of Florida's division of bond finance, as he left a conference luncheon where speakers warned of threats to the market's main attraction, the federal tax exemption on muni-bond interest. "Is there now a lot of angst out there? Heck, yes."
Reuters:    SEC sees fiduciary standards late in 2011-SIFMA
Bond Buyer:   Erik Sirri to Oversee MSRB's Muni Study
Ipreo: Next week's muni new issue calendar. (PDF) Slight uptick in deal volume.
Bond Buyer:   Bond Buyer's 20 yr GO Index @ 5.04%; highest since Feb. 17