Muni sweeps: Christie's battles are not credit positive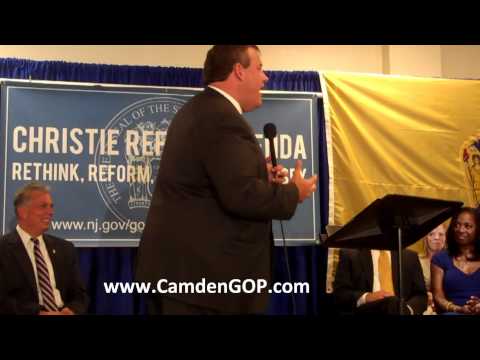 We are a nation of states with differing political cultures and leaders.  Loud leaders and quiet leaders.
The loud ones get most of the attention. Do financial markets reward the loud ones too?  Not always it seems.
New Jersey Governor Chris Christie gets a lot of attention for his approach to governing. And has garnered a lot of political interest for his full-on attack on his state's municipal unions. See the video above for an example.
But financial markets aren't rewarding New Jersey.
In fact municipal CDS for New Jersey, or the cost to insure its bonds for default,  is ~50% higher than neighbor New York. [New Jersey 149 bps and New York 98 bps]
Bloomberg's Michael McDonald details Governor Christie's approach to managing his state's affairs.
The [New Jersey] governor's $29 billion spending plan, passed last year, cut $820 million in school aid and $445 million for municipalities, while suspending almost $850 million in property-tax rebates and deferring a $3 billion pension contribution.

New Jersey faces a $10 billion deficit in fiscal 2012, which at about 37 percent of its current budget is the second worst among states, according to the Center on Budget and Policy Priorities.
In contrast they got it quietly done in New York.
Governor Andrew Cuomo, a Democrat, and lawmakers in Albany last month closed a $10 billion deficit with $9 billion of cuts and no new taxes. The state's fiscal year began April 1.
Bombastic attacks on unions make good political theater but bond markets have seen a parade of politicians who make big promises then struggle within the constraints of political reality.
Partnering  is often a more durable strategy in the public sector than pontificating. What sayeth the CDS market?
Wisconsin: another political disconnect?
Yvette Shields of the Bond Buyer has an interesting article about a new funding conduit in Wisconsin. As a first of a kind the Public Finance Authority will sponsor municipal bonds anywhere in the country. And it will sponsor investment grade and junk rated projects.
It's a little shocking to me that a state which leaned so heavily on its own employees is willing to provide credit enhancement to any municipality across the country regardless of their fiscal policies. From the Bond Buyer article:
The authority is formally a subdivision of Wisconsin established under legislation signed by former Gov. Jim Doyle last year. The agency promotes its ability to issue tax-exempt conduit bonds for public and private entities nationally for projects with public benefits to promote economic development, industry, infrastructure, and affordable housing. Because of its national scope, the PFA can serve as a one-stop shop for projects that span multiple jurisdictions.

While a handful of state-based authorities have the statutory power to issue bonds for projects outside their borders, "the PFA is the first authority created for the primary purpose of supporting projects anywhere in the country," said Roger Davis, a San Francisco-based attorney with Orrick, Herrington & Sutcliffe LLP and a co-author of the Wisconsin legislation.
This feels like the off-balance sheet tricks of Citigroup's SIVs and AIG's credit derivative exposure for mortgage securities.
Let's hope it ends more positively for Wisconsin's taxpayers.
Closed end municipal mutual funds by state:
Not so pretty: have a look. (WSJ)
The State of Jobs in the US – eBay Classifieds infographic:
From The eBay Classified Blog:
We looked at personal income per capita, unemployment rates, and crime rates to determine which states have the most buoyant economies in this still very difficult economic climate. We then determined the largest occupations, and the fastest growing occupations, for each state so we can see where the most jobs are found.
eBay Classified Blog finds that New Hampshire is the most economically buoyant state.
Maybe their economic buoyancy is because they preserve their common wealth? For example, New Hampshire has the oldest state capitol in which a legislature still meets in its original chambers.
Migration bribes:
The Wichita Eagle reports on a smart way to build a tax base and strengthen communities.
Gov. Sam Brownback said today he hopes new economic incentives will reverse the decades-long decrease in rural populations by the time the 2020 census is conducted.

"That is the goal… that they will be starting to grow," he said at Wichita State University.

Brownback was at WSU as part of a four-stop tour of the state to promote the incentive plan.

The plan focuses on 50 rural counties — pegged as rural opportunity zones, or ROZ — with a two-pronged approach.

It waives state income tax for a five years for those who live out of state and move to one of the 50 counties.

It also pays off student loans — up to $3,000 per year of living in the county, with a cap of $15,000 — for college graduates who move to one of the targeted counties. That amount would be split between the state and the county, which has the option of whether to participate.
Citi's muni fund carry trade blew up and now they pay $51 million
Don't promote risky investments as less risky is FINRA's message to Citigroup.
The [Citi] funds used short-term borrowings to fund purchases of long-term municipal bonds, said Craig McCann of the Securities Litigation & Consulting Group, a Virginia consulting firm, who worked as an expert witness for the plaintiffs.

"It was sold as having just a little bit more risk than an unlevered municipal bond portfolio," said McCann. "It wasn't just a little bit more risky, it was a lot more risky."
Little sweeps:
Credit Lime: Are municipals (bonds or swaps) headed up or down?
San Francisco Chronicle:  S.F. municipal bond rating downgraded by agency
Financial Times: US municipal bonds face tax reform threat
Taipan Daily:  Everything's Negotiable – Including Municipal Bonds
New York Times Opinionator:  How to Save a Trillion Dollars