It is an inability to prioritize that has paralyzed Washington
President Obama's proposal for cuts to the federal budget, which Congress directed him to detail as part of the sequestration process, was released last week. The cuts must come from the annual $1.2 trillion in discretionary (non-entitlement) federal spending. Reuters reports:
The White House presented a detailed breakdown Friday of $109 billion in across-the-board spending cuts scheduled for January, setting off a fresh blame game between the Obama administration and Republicans over responsibility for what both say is a preventable budgetary calamity.
The itemization of the so-called "sequestration" plan showed potential pain all around: $11 billion out of the Medicare healthcare program for the elderly, a $15.3 billion cut in defense procurement accounts and hefty cuts to a Department of Agriculture program that supports farm prices.
After the November election, a fight over specific cuts or tax increases or decreases is likely to be enormous. The number of interests that are preparing to protect their turf run the gamut from defense contractors to public employee unions. Here is the battlefield: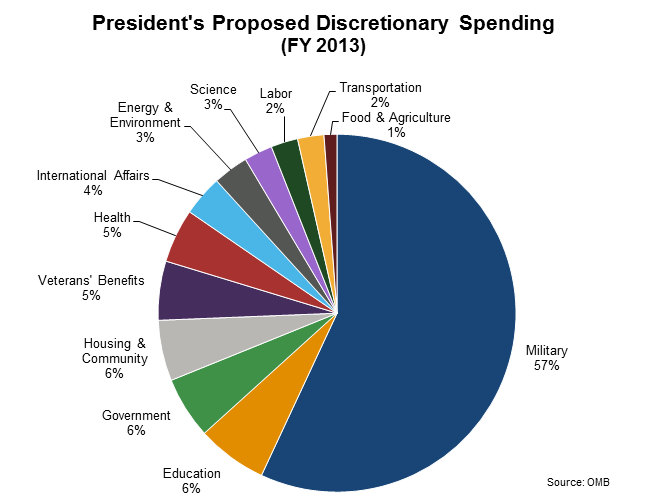 Various groups have chosen different political postures. J. David Cox, president of the American Federation of Government Employees, is arguing against cuts to entitlement programs, which is not even currently on the table. From the Washington Post:
Cox said in a statement that "as lawmakers work toward a plan to avert sequestration, we urge them to resist calls to exploit the crisis by making cuts to Social Security, Medicare, or federal retirement."
The Pentagon and military contractors, the interest groups that stand to lose the most, are actually scoffing at the whole process with no intent to prepare for cuts. From Leo Shane III at Stars and Stripes:
Even though the White House released a 394-page report Friday detailing how billions will be trimmed from individual military spending accounts, defense officials insist they're still not drawing up plans to implement those cuts.

Pentagon spokeswoman Lt. Col Melinda Morgan said the department is working closely with the Office of Management and Budget, but "we have not begun any planning efforts."
The idea that a branch of the government is not preparing for contingency of this magnitude is either a mark of supreme confidence or hubris. Perhaps they have received enough back- channel assurances from the Obama administration and/or Congress that they will not be required to make cuts. Veronique de Rugy writing in the National Review short-circuits the military's most prominent argument:
This morning National Review Online has a great piece by Robert Bryce on wind energy. The subtitle of his piece is "The 'our industry creates jobs' argument is the last refuge of a subsidy seeker." That applies to defense contractors — the Department of Defense is not a jobs program. Its role isn't to sustain defense contractors' profits independently of the security they are actually meant to provide. Private-sector profit margins or even private-contractor job losses shouldn't prevent sensible reductions in federal spending.

Even after sequestration, and adjusted for inflation, defense spending would only revert to its 2007 level in real terms. In fact, after a near doubling in the defense spending in the last decade, it seems that at the core problem the Department of Defense may have is not lack of funding but inability to prioritize.
The federal government consumes 24% of GDP and sequestration is an effort to slow the expansion of this number. Yet, the federal sequestration process is discussed as if it is a giant ax that will indiscriminately cut programs and federal employment. Affected agencies should be actively reviewing their priorities and spending and give Congress the necessary information to allow for decision-making. As the National Review's Veronique de Rugy said, it "is not lack of funding but inability to prioritize" that has paralyzed Washington.