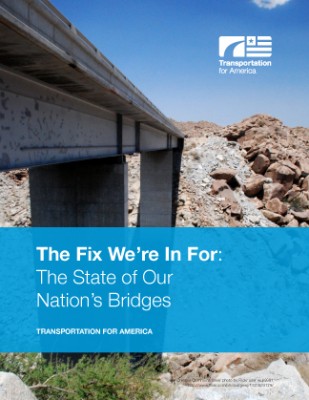 It's Friday and America keeps chugging along.
We have no Federal budget, we are possibly shutting down the federal government and our national credit card is nearly maxed out.
And over here in muniland the road is still bumpy. Here is the sweep.
Municipal bond mutual funds continue to experience outflows, general obligation bonds interest rates tick up a little from slack demand and several Senators dust off an old, unpopular idea for taxation of muni bonds.
Transportation for America:    The Fix We're In For: The State of Our Bridges
"Despite billions of dollars in federal, state and local funds directed toward the maintenance of existing bridges, 69,223 bridges — 11.5 percent of total highway bridges in the U.S. — are classified as "structurally deficient," requiring significant maintenance, rehabilitation or replacement."
WSJ:   Muni-Tax Exemption on Chopping Block
"…the municipal-bond exemption is a fraction of the overall cost [of federal budget]. A report by the Congressional Research Service last week said the tax exemption for state and local borrowings will cost the federal government $161.6 billion from 2010 through 2014 [approximately $40 billion per year].