India, Pakistan back to their aggressive ways at Wagah
Email

Print
One of the oddities of the troubled India-Pakistan relationship is a  theatrical flag-lowering ceremony that the border guards of the two countries together enact every day at sunset at the Wagah checkpoint in the Punjab – for long the only road crossing.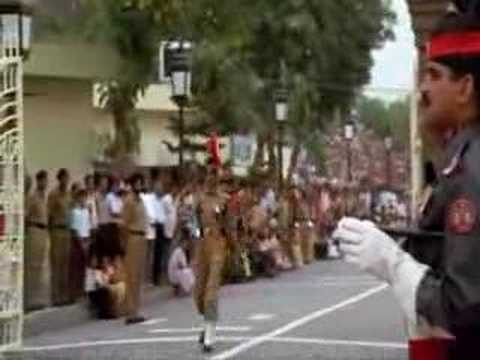 Tall, very tall, guards from the Pakistani Rangers and men from India's Border Security Force (BSF) with twirling moustaches goose-march up to the zero point, stamping their feet on the ground till the knees reach the chin, scowling at each other  and shouting their way in a choreographed routine that ends in the lowering of the flags and the slamming of huge gates to the two countries.
Watched by baying crowds seated on grandstands on either side, the guards, wearing huge fan-shaped headresses,  come within inches of each other, the hostility unmistakable, the gestures avowedly  aggressive. The flags are lowered in clockwork precison; the soldiers exchange the briefest of handshakes, and the borders between India and Pakistan are sealed once more as they have been for most of the past 60 years. 
For the last  two years, the two sides had chosen to tone down some of  the posturing  during this retreat ceremony at the border, in keeping with the spirit of rapprochement that began with a peace process in 2004.
But according to this story from the Press Trust of India, India and Pakistan are back to their aggressive ways once again at Wagah, reflecting renewed strains in the relationship.
"Everything was going on normal during the evening drill but a few days back the Pakistan Rangers started showing their aggressive postures again after which BSF was forced to retaliate in a similar fashion,"  said Mohammed Aqeel, deputy inspector general of the Indian BSF.
Aqeel said the BSF initially tried to ignore the Pakistanis' posturing, but then the crowds massed on their side would not allow it to be left unchallenged.
Perhaps, like much else in the difficult relationship between India and Pakistan, this too may become another point of argument as to who brought back the "precision nastiness" into the Wagah ceremony.
The crowds love the show, perhaps because it appeals to a  deeper instinct – a sense of being locked in mortal combat.  And as journalist Nirupama Subramaniam writes in her blog, a whole industry has developed around this ceremony, part theatre,  part symbolism, part one-upmanship.
Restaurants and drink stalls have sprung up on both sides of the border,  and if you are in Amritsar, home to the Sikhs' Golden Temple, a trip to the Wagah to watch this sunset ceremony is considered part of any tourist itinerary. You can also pick up VCDs of the show for the folks back home.
With so  much passion invested in this,  is it any surprise then that someone is making sure the ceremony at Wagah doesn't lose its  hard edge ?
Perhaps it is best  the two countries expend their energies on such  shadow-play rather than on real guns.
  
Post Your Comment