Pakistan: Now or Never?
Perspectives on Pakistan
Most people who follow South Asia have either watched the Beating the Retreat ceremony at Wagah on the India-Pakistan border on video or been there in person. The farcical and choreographed display by goose-stepping soldiers from India and Pakistan as they slam shut the gates on the border crossing is such a  staple for Western journalists that it has almost become too cliched to write about.
But having been there myself for the first time last week, after 10 years of following India and Pakistan, I can't resist throwing in my own two cents' worth.
The mood is already riotously cheerful as we arrive from Lahore, "Jai Ho" blasting out from loudspeakers on the Indian side, soon to be drowned out by loud music on the Pakistani side, accompanied by much banging of drums, clapping, flag-waving and dancing. The goose-stepping soldiers with their turbans appear and dance out their quadrilles to cries of "Pakistan Zindabad" on our side of the gate, "Bharat Mata ki" on the other. The white gates with the Pakistani flag and the name of the country in both English and Urdu are still shut, so that my first impression of a country that I once lived in for four years is that I can hear India rather than see it.
Then the gates open and for the briefest of moments you imagine what it would be like if the crowds on either side could simply walk up to each other, hug and talk; perhaps even pass each other on their way along the Grand Trunk Road as it once was before partition in 1947. The day that happens, if and when it does, you would have to be a very hard person not to shed a tear.  For me, at that moment, the fun of the ceremony was lost.
One of the oddities of the troubled India-Pakistan relationship is a  theatrical flag-lowering ceremony that the border guards of the two countries together enact every day at sunset at the Wagah checkpoint in the Punjab – for long the only road crossing.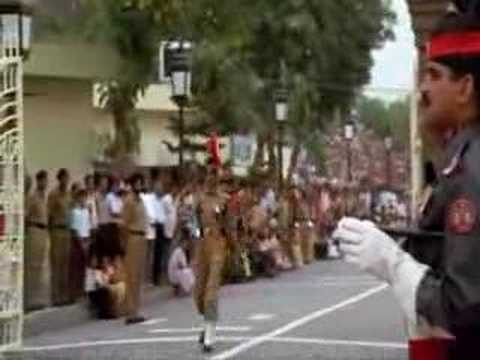 Tall, very tall, guards from the Pakistani Rangers and men from India's Border Security Force (BSF) with twirling moustaches goose-march up to the zero point, stamping their feet on the ground till the knees reach the chin, scowling at each other  and shouting their way in a choreographed routine that ends in the lowering of the flags and the slamming of huge gates to the two countries.