Albatross of a feather…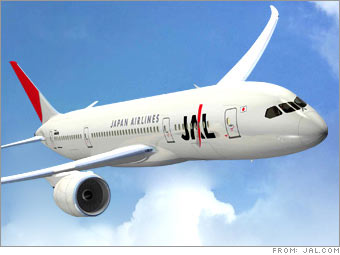 Japan Airlines said it would keep its partnership with American Airlines in the Oneworld alliance, ending an attempt by Delta Air Lines to entice the bankrupt carrier to its rival SkyTeam group. JAL, Asia's largest carrier by revenues, said it would file with American Airlines for regulatory approval for closer cooperation on transpacific routes under a recently signed "open skies" treaty between the United States and Japan.
Delta had been courting the Japanese carrier for months with an offer of $1 billion in financial aid. A nice offer, but hardly enough to put a dent in JAL's $25 billion debt load. Of more value was access to Delta's larger route network, which could have saved it some costs.
JAL's new management team said switching alliances risked derailing its efforts to revive itself in three years with the help of a government-backed fund. Another big concern may have been one of antitrust. American had said that defecting to SkyTeam could drain JAL of about $500 million in revenues during a transition period of 18-24 months, but was also arguing that a Delta and JAL tie-up would stifle competition by creating a dominant player on transpacific routes.
With all of its problems, JAL can perhaps be forgiven for not wanting to keep that "dominant player" tag.
Post Your Comment