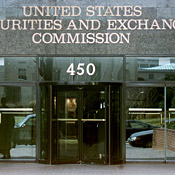 Hewlett-Packard's move into the network equipment market with a $3.1 billion deal for 3Com could be marred by allegations of insider trading. At first glance, the hallmarks of suspicious trading are there, according to option traders said. 3Com shares jumped 5.18 percent to $5.69 during the day — before the deal was announced — rising from the opening bell and closing a penny off the session high.
After the bell, when the deal was disclosed, 3Com shares shot up 35 percent to $7.65. Option market sources told our reporter Doris Frankel it wasn't just the stock behaving oddly ahead of the late-afternoon news. Volume in 3Com call options — which convey the right to buy the company's shares at a fixed price within a specified time period — soared.
A total of 8,085 calls traded, against only six puts. That amounted to 17 times the recent average daily call volume, according to option analytics firm Trade Alert.
"The rise in 3Com shares and a surge in call volume before the takeover announcement tell us that somebody's timing was extremely good," said Jon Najarian, co-founder of optionMonster, a Web information site. "Since I do not believe in coincidences on Wall Street, I would bet that these unusual call option trades will spark an investigation."
The Securities and Exchange Commission, which looks into unusual options and share trading activity, was closed on Wednesday for the U.S. Veterans Day holiday. Expect it to be busy today.