Newark mayor campaigns for Obama, hits Romney's "business experience"
Newark Mayor Cory Booker, campaigning in New Hampshire for President Obama, lit into one of Republican Mitt Romney's main arguments for his candidacy: his business experience.
The former Massachusetts governor rarely misses an opportunity to remind voters that he spent "25 years in the private sector" and "understands the real economy," unlike President Obama.
Booker took issue with that argument after a stump speech for Obama in Plymouth, N.H., and made his point by singling out fellow Democrat and former New Jersey Governor and ex-Goldman Sachs CEO Jon Corzine, who is at the center of the collapse of brokerage firm MF Global.
"There is no natural correlation between private sector business experience and how you're going to do," said Booker. "Unfortunately New Jersey is seeing that right now with the private sector business experience of our former governor and the challenges that he's facing right now."
Booker, who was slated to visit three New Hampshire colleges today to try to motivate college students for the campaign, wouldn't leave Romney's argument there.
"Is it the private sector business experience of a Bernie Madoff?" he said, referencing the jailed investment magnate. "Now I'm not comparing Romney to those folks with all due respect, but Abraham Lincoln, one of our greatest presidents, was a failure at business. FDR didn't have private sector business experience but did a great job. John F. Kennedy was a phenomenal president that didn't have business experience."
Booker has been pondering a run for New Jersey governor and U.S. Senate, but joked today that his political aspirations might be dashed by a YouTube clip of him admitting he has a "man-crush" on legendary New Jersey pop singer Jon Bon Jovi.
Booker's 2008 paean to the bard of 'Livin' On a Prayer' starts at the 5:40 mark of the clip below.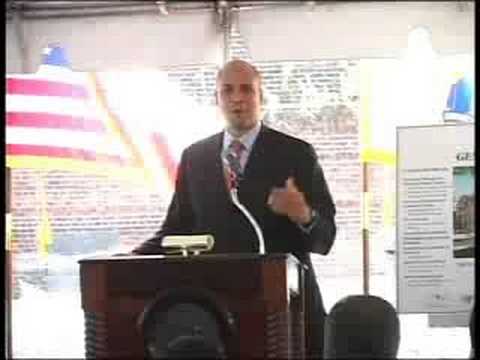 Video credit: CoN6600/YouTube
Photo Credit: REUTERS/Jonathan Ernst