Usually calm, Clinton loses cool over Greenpeace question
Hillary Clinton is usually known for her aplomb under 'duress,' for example when she unflinchingly sat through many hours of a Congressional hearing on her handling of the attacks on the U.S. embassy in Benghazi, Libya, in 2012.
But a question about her record on accepting donations from the fossil fuel industry tipped the front-runner for the Democratic nomination in this year's election over the edge.
As Clinton shook hands with the audience after a campaign rally in Purchase, New York, Eva Resnick-Day, a democracy organizer with Greenpeace USA, asked the former secretary of state whether she would "act on her word to reject fossil fuel money in the future."
Clinton appeared frustrated by the question, jabbing her finger toward the woman and raising her voice, according to a video clip that Greenpeace posted online.
"I am so sick, I am so sick of the Sanders campaign lying about me," Clinton said. "I'm sick of it."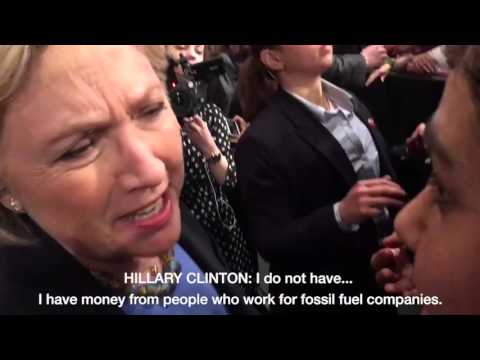 Clinton told Resnick-Day she had received money from people who work for fossil fuel companies, rather than from the companies themselves – a point her campaign has sought to emphasize since.
"She has taken money from individuals who work in the oil and gas industry, but so does Bernie Sanders," Clinton senior spokeswoman Karen Finney said on CNN.
"The point here is, let's be fair," Finney added.
The Greenpeace activist has since said she does not work for and is "in no way affiliated with the Sanders campaign, as Clinton seemed to suggest in her response."
In a blog she posted after the exchange, Resnick-Day emphasized that she was "shocked" by Clinton's response but still wanted the former secretary of state to sign a Greenpeace pledge to stop taking fossil fuel money, which she said Sanders has done.
For his part, when asked about Clinton's comments, Sanders cited his record number of individual campaign donations, which he said is twice as many as his rival's campaign.
"I'm not crazy about people disrupting meetings, but the fact of the matter is Secretary Clinton has taken significant sums of money from the fossil fuel industry," Sanders told ABC's "Good Morning America" program.
The spat comes as the candidates begin to compete for the delegate-rich state of New York, where they both have ties and which holds its nominating contest April 19.