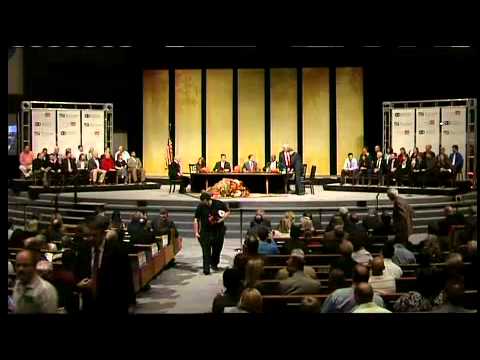 Six of the Republican presidential candidates met at the First Federated Church in Des Moines, Iowa, last night for a dinnertime "family discussion" at the Thanksgiving Family Forum. Gathered around a wooden table garnished with a centerpiece of artificial pumpkins, moderator Frank Luntz asked Michelle Bachmann, Herman Cain, Newt Gingrich, Ron Paul, Rick Perry, and Rick Santorum about their views on social issues, morality, personal responsibility, and God. Neither of the two Mormon candidates, Mitt Romney and Jon Huntsman, were in attendance. Here are some of the most memorable moments:
1. Gingrich tells OWS: "Go get a job — right after you take a bath."
Asked about the role of personal responsibility in society, Gingrich quoted John Smith (of Pocahontas fame): "In 1607 in the first English speaking permanent colony, [Smith said] to the aristocrats who had paid their way and didn't want to work: 'If you don't work, you won't eat.'"
The same principle, he said, should apply to Occupy Wall Street protesters, all of whom "start with a premise that we all owe them everything."
They take over a public park they didn't pay for, to go nearby to use bathrooms they didn't pay for, to beg for food from places they they don't want to pay for, to obstruct those who are going to work to pay the taxes to sustain the bathrooms and to sustain the park so that they can self-righteously explain that they are the paragons of virtue to which we owe everything" (1:10:05).
"Go get a job," he said. "Right after you take a bath."
2. Perry says we're sending billions of dollars to China, where they abort 35,000 children per day